<![if !supportLineBreakNewLine]>
<![endif]>
Caitlin MacPherson, aka Gypsy Cat


This character is essentially a part of me. Please do not use her without my permission.


Caitlin is based on yet another Tegan. Several years ago, I created a character named Tegan Dawson for an RPG based on the anime Ranma 1/2. This Tegan (shown in this picture drawn by Jason Heavensrun, colored by me) was a normal woman who accidentally fell into one of the Jusenkyo cursed springs (specifically, spring of drowned cat-girl). Due to a further accident with some magic potions, Tegan permanently became a cat-girl.

Someone at one board had mentioned the idea of the Doom Patrol meeting up with some anime characters, and I began toying with the idea of the Doom Patrol showing up in the RPG (our RPG tends to wander across fandoms, so it would have worked).

After I saw the Teen Titans movie and the pink haired cat girl, my imagination was fully sparked. Since I have three different characters named Tegan (Tegan Watson, aka Tarot; Tegan Dawson, my RPG character; and another Tegan I wrote into a novel), I decided it was time to rename this character and make her completely different than RPG Tegan. And so Caitlin was "born".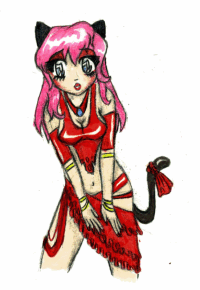 "Gypsy Cat" picture by Tekka (though Caitlin should have black fur on her arms and legs, see the picture of Tegan above).

Code Name: Gypsy Cat
Real Name: Caitlin MacPherson
Abilities: Super sharp claws; can change into a small, black cat with a ring of pink fur around her neck; "picture perfect" memory; other abliities to be determined.
Hair: Pink
Eyes: Green
Height: 5'3"
Weight: 110 lbs
Occupation: College Student/aspiring "CSI"



Origin: Coming soon!

This character is my own creation. Please do not use her without my consent. Thank you.
Quick Links